A couple of weeks ago I saw this message in my Facebook Feed. It is from the Belgian NGO Dierenartsen zonder Grenzen (DZG = Veterinarians without Borders).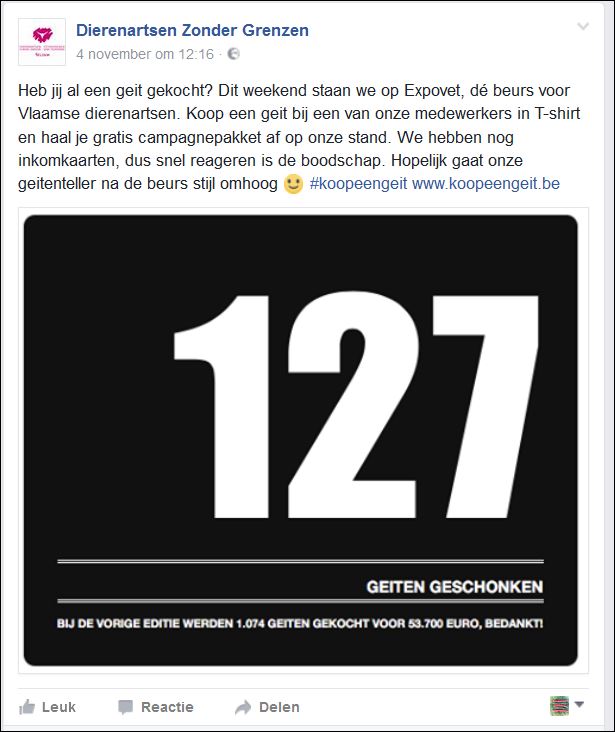 The post calls to buy a goat. At that point, the counter stood at 127 purchased goats (meanwhile more than 300). On the website koopeengeit.be (buy a goat) I find out that the collected funds are meant for the purchase of goats in Africa. "Buy a goat for 50 euro, a small herd for 200 euro or a larger herd for 500 euro and give African families a future." On the FB page, I read that the organisation DZG "combats hunger and poverty in remote African areas, by improving husbandry". The goats 'give milk and manure' and are being eaten, because the population 'eats a lot of goat meat'. The goats are 'an asset that becomes profitable over time and are easily transferred into money' and 'that can be a first step to cattle farming'. For underpriviliged African families, they can be 'a means to step out of poverty', it says on the website of buy a goat.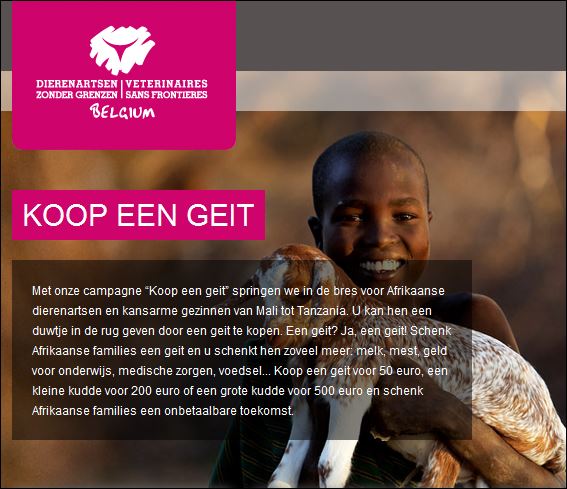 Goats are not machines
Goats are not fussy eaters and can survive in barren conditions. But that is precisely the problem with a lot of goat herds in developing countries: they eat just about everything on their path. Too many goats causes overgrazing  and that on its turn – together with deforestation, climate change and overpopulation – causes further desertification. Veterinarians without Borders states that "giving away goats as such does not cause new environmental damage, because we buy them locally and they come from herds which are already in the region." That sounds a bit like saying that buying new diesel cars does not cause any additional air pollution, because they have already been produced anyway. Or that buying puppies in a puppy mill does not contribute to the overpopulation of dogs in shelters, because those pups have already been bred anyway.
Supply and demand is of course the key of this system and 'buy a goat' contributes on both fronts. The couple of hundreds of goats donated by DZG are perhaps a small drop in the ocean compared to the hundreds of thousands of goats grazing in Africa. But by offering the trade in and killing of goats as a solution, the system is endorsed, even more, people are encouraged to participate: to keep more goats, to see it as a stepping stone to cattle farming. But if we want to feed the growing world population of billions of people in a sustainable manner, we precisely need to move away from a system with such a devastating impact on the climate, the environment and our health. No doubt a part of the population in these areas suffers from malnutrition, but that can also be solved through plantbased food (see the projects listed below).
By offering the trade in goats as a solution, people are encouraged to keep more goats, to see it as a stepping stone to cattle farming. But if we want to feed the growing world population of billions of people in a sustainable way, we need to move away from a system with such a devastating impact on the climate, the environment and our health.
The most important reason why I cannot support this project is of course the ethical aspect. DZG says that a goat is 'Milk, food and manure', and 'warmth, love and future'. The goats who are being slaughtered probably have another idea of the meaning of 'love'.
Goats are – just like human beings – living sentient beings, who have the ability to suffer and who want to live. They are not objects, 'merchandise' or beings without feelings. They have their own needs and interests and each of them an own personality and individuality. Furthemore, goats live in herds and form social bonds, that are broken by random commerce. Bucks do not produce lambs and as such are less profitable. Given some luck, some of them can prolonge their life by fertilising the female goats of the village. The others soon end up as 'meat', together with the goats – young and old – who do not 'produce' enough. By trading them, taking away their offspring, and killing them, their rights are violated. Taking good (veterinary) care of them makes little difference: in the end the goats are slaughtered and their life is prematurely ended.
Goats are not objects, 'merchandise' or beings without feelings.
We cannot attain a righteous society by exploiting others, whether those others are humans or other animals. It is also not just to advance the resiliance of people by exploiting other people. When taking into account the rights of animals, it is unjust to exploit animals to attain a better world for humans. In this respect, husbandry is simply no viable option, because animals always draw the short straw, however well they are treated.
With respect for humans and other animals
There are also projects that help humans without exploiting animals. I found these initiatives (if you know of any others, do let me know!).
Plenty Food is a Dutch organisation that supports plantbased food projects in developing countries.
Vegfam funds ethically sound plant-food projects, which do not exploit animals or the environment: seeds and tools for vegetable growing, fruit and nut tree planting, irrigation and water wells. Also, emergency feeding in times of crisis.
A well fed world is a hunger relief and animal protection organization chipping away at two of the world's most immense, unnecessary and unconscionable forms of suffering… the suffering of people hungry from lack of food, and the suffering of animals used and abused for food. Read also their 10 reasons to say no to farmed animals as gifts.
Food for life is the world's largest vegan food relief with 209 projects in 60 countries serving up to 2 million meals daily.
Food Empowerment Project seeks to create a more just and sustainable world by recognizing the power of one's food choices. We encourage choices that reflect a more compassionate society by spotlighting the abuse of animals on farms, the depletion of natural resources, unfair working conditions for produce workers, the unavailability of healthy foods in communities of color and low-income areas, and the importance of not purchasing chocolate that comes from the worst forms of child labor.
I hope more of such projects, that also take into account the rights of animals will be developed. And as evidenced by the above initiatives, that does not have to come at the expense of human rights, but can go hand in hand.
Further reading
Dierenarts, bekommer je eens om het dierenleed, Arabella Burgers, May 2 2016, NRC.nl. (in Dutch)
10 reasons to say NO to animal gifting hunger relief Organisations, December 10, 2013, Free from Harm.
I previously published this post in Dutch on my other blog Graswortels.org: see here.